The DIY Legal Toolkit vs. DFY Services
There are so many things you can do yourself when it comes to getting your online business's legal ducks in a row. My DIY Legal Toolkit walks you through it all, for a fraction of the cost of hiring a lawyer to do it for you. 
However, if you prefer the done-for-you option, here are some of the DFY services I offer to help you cover your assets online… 
---
OPTION 1: "WEBSITE LEGAL LITE"
This package contains two extremely important legal docs for your website:
Privacy Policy + Disclaimer
1. You are legally required to post a  PRIVACY POLICY on your website if you collect any information from visitors, even if it's just an email address. The Federal Trade Commission (FTC) makes protecting your website visitors' personal information mandatory. Beware of generic Privacy Policies: they do not take into account the nuances of your particular business and are likely to leave you exposed in ways you don't realize.
2. Managing your risk is a crucial part of running an online business and your website's DISCLAIMER is essential to such risk management. It protects you from lawsuits that may arise when a user of your site claims to have been injured as a result of having relied on the information you provide on your site. A disclaimer is a very broad statement and is the bare minimum you should have in order to cover your assets online.
$497
---
OPTION 2: "LIABILITY RISK REDUCTION"
This package contains two legal docs: one for your website and another for your products and services. 
Website Terms of Use  + Products and Services Terms and Conditions.
1.
Your website's
TERMS Of USE
statement
spells out the 
rules
you require people to follow when they visit your website.
 It lets your visitors know exactly what they are  permitted to do with the content you provide (with regards to commenting and sharing, for example) as well as what they are not permitted to do (for example, copying and redistributing your site's content without permission).
It's also intended is to put limitations on any
liability
that may arise from misuse or unreasonable reliance on the information provided on your website.
2. A TERMS AND CONDITIONS (a.k.a., Terms of Use) statement limits your liability when it comes to the products and services people buy from you. It warns against misuse of your products and services and disclaims any liability that may arise out of such misuse. In other words, it helps you set out the rules and guidelines that your buyers must agree to in order to use your products and services. You must provide this to your buyers at the time of purchase in order to make sure they are aware of the terms.
$597
---
OPTION 3: "GET IT IN WRITING"
This is the legal agreement/contract you will have your clients sign in order to "cover your assets."
Client Services Agreement (CSA)
If you have clients you need a CLIENT SERVICES AGREEMENT. Without one your assets are extremely exposed.
A CSA lets your clients know, up front, exactly what's being delivered. There's no guesswork, and no surprises… for you or your client. It's very reassuring (for both sides) to "have it in writing."
Without a CSA you could find yourself out of pocket, wasting time, and unsure of how to proceed when a client fails to do what you assumed he or she would.
Having a signed agreement assures you that there will be no "misunderstanding" when it comes to the terms of the services to be provided: how the services will be provided and how often, the nature of the services to be provided, the cost of such services, and what to do when one of the parties fails to keep up her end of the bargain.
Don't do business without it.
$597
---
OPTION 4: "WEBSITE LEGAL" (THE WORKS)
This package includes all five legal documents outlined above:
1. Privacy Policy
2. Disclaimer
3. Website Terms and Conditions
4. Product Terms of Use + Disclaimer
5. Client Services Agreement
       6. 30-minute phone consult
EXTRA BONUS: This package comes with my critically acclaimed DIY Legal Toolkit, an invaluable resource that includes everything you need to know when it comes to covering your "assets" online, such as:
Switching from SOLE PROP to LLC or S-CORP (with instructions!)
How to COPYRIGHT your content, including your products, services, books… everything that is your original creation;
What you need to know about TRADEMARK and protecting your brand;
What to do if someone steals your stuff;
How to avoid a Facebook ads smackdown or the dreaded Google slap.
And so much more. The DIY Legal Toolkit also includes checklists and templates that will save you thousands of dollars in legal fees. It sells separately for $597.
You get it FREE when you purchase the "Website Legal" (The Works) package.
$1997
---
Forget what you think about lawyers because Lin is a new breed of attorney whose main objective is to make sure you "Cover Your Assets Online."  ~ Rachel Moheban, Therapist and Founder of TheRelationshipSuite.com.
---
NEED TO PICK MY LAWYER BRAIN?
I offer a 30 minute consult during which I answer any of your legal questions, including…
What to do when someone steals your content;
Whether you should pursue a federal trademark registration;
How to protect your website content, products, and services.
We can cover a lot in 30 minutes, so make a list of your questions and ask away.
Sign up for a 30-minute consult HERE.
---
ONLINE BUSINESS LEGAL ASSESSMENT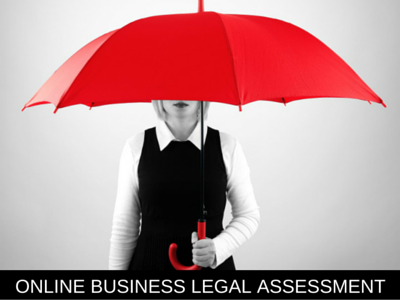 If you're at the point in your online business where you could use a little help from an attorney but your start-up funds are still rather scarce, consider an Online Business Legal Assessment. We go over every aspect of your business, including your website, your products and services, your legal docs (or the ones you're missing) to see where you're vulnerable. Then I show you how to plug up the holes, a.k.a., cover your assets! 
Find out more HERE.
---
I was gun-shy of legal 'stuff' after a couple of bad experiences when I tried to do it all by myself, with disastrous results – to the tune of several thousand dollars and almost losing my business. After that, I thought I needed to keep an expensive attorney on retainer to do everything for me so that I wouldn't get myself into hot water again.
Enter Lin. She showed me what I could do on my own (to save big bucks) and what I needed to hire a professional to execute. In addition, she gave me the step-by-step instructions for the DIY portion so that I could get it right the first time, with confidence. My ducks are in a row now and I sleep well at night knowing that I'm no longer at risk. Thank you Lin!
Jill Angie
NotYourAveragerRunner.com