Coaching is now a 2-billion dollar industry.
That billion, with a 'b'.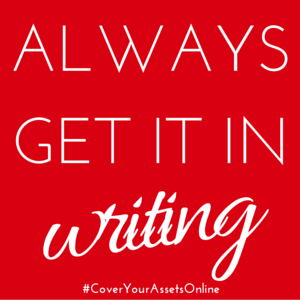 Anyone who still rolls their eyes when they hear the words "life coaching" may need the services of a coach more than anyone. My life changed when I hired my first coach and it's clear a lot of people are benefitting from coaching.
The thing about coaches is that they are so focused on helping their clients they often fail to protect their own interests, also known as covering your assets.
Your online assets are all the content you've created on your website: your business name, your tag line, your blog posts, programs, services, illustrations, images… all the stuff (it's actually called "intellectual property") that's legally yours. And you simply must be proactive when it comes to protecting it from online kleptomaniacs who will steal your stuff in a heartbeat if you don't build an invisible electric fence around your website.
And then there's the invisible fence you need to put up around yourself when you're working directly with clients. In this case your (not so invisible) fence is a Client Services Agreement (CSA).
Without a CSA you open yourself up to lawsuits. And saying, "that'll never happen to me" is tantamount to putting your head in the sand and relinquishing responsibility, something that's a no-no in the life coaching world (wink).
A CSA sets the terms and expectations of the parties: Coach and Client. It also fosters trust and repeat business.
A CSA lays it all out in black and white for your client. There's no guessing about what the fees are, when they're due, what to do if there's a cancellation. Your CSA will also include terms governing how disputes will be handled.
The expectations are all clearly defined.
No guesswork.
No surprises.
No mopey faces.
---